California Love
that's the ringtone that plays when my sister calls me. anyway, my California hippy sister is coming home tonight to visit for a long weekend and i am so happy that i will get to see her!
despite the fact that i constantly torture her for being a vegetarian,* truthfully i appreciate the comic opportunities that her eschewing of meat creates. the vegetarian mocking just never gets old. and she also drives one of those 1/2 electrical cars.
i used to make fun of it, as did my brother who claims "it runs on smiles and good vibes" or something like that, but i have recently become truly jealous since it now costs about a $1,000,000 to fill up my gas guzzling car. even though the Prius a) has a gear shift that's very similar to an old Atari joystick (in that it returns to the center position even while it's engaged in another gear)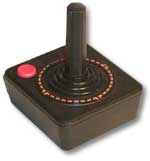 and B) has a Power button, not dissimilar to my computer's "on" button, rather than an ignition operated by a key that turns, this car would save me mucho dinero. i wonder if this is truly ironic, or Alanis Morrissette ironic. either way, the hippy wins. damn tree-huggers!
---
* somehow, with great luck, i managed to fall for a guy whose brother is not only a vegetarian, but vegan. only he can understand the great pain i have suffered to be denied my second meat option at holidays, only to have it replaced with tofurkey or some such invented foodstuff. PETA may think T's brother was
a candidate for "Sexiest Vegetarian" in 2004
but i contend that no such category should exist!